Exploring Avebury: the Essential Guide
A new book by Steve Marshall
Soft cover, 226 x 248mm, 144 pages, full colour, ISBN 9780750967662     £14.99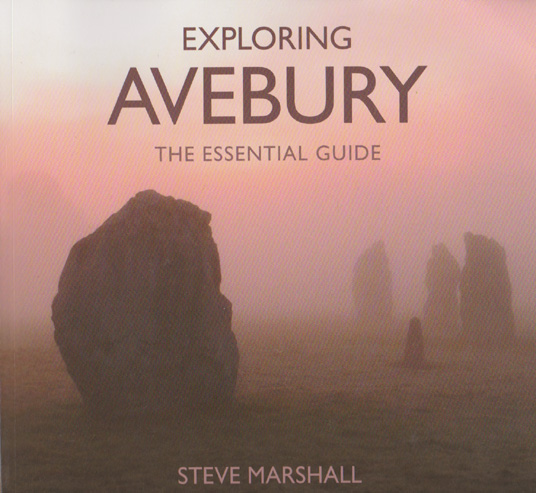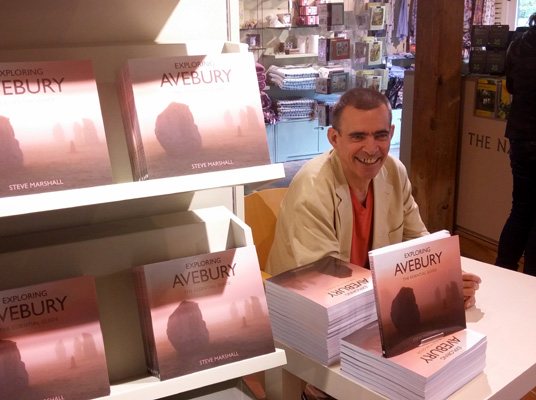 Exploring Avebury includes all the monuments and natural features of the 'sacred landscape' within a five mile radius of the Avebury Henge, including:
West Kennet Avenue
Silbury Hill
West Kennet long barrow
The Sanctuary
Longstones
Windmill Hill
Marlborough Mound
Beckhampton Avenue
West Kennet Palisaded Enclosures
Devil's Den
Adam's Grave
East Kennet long barrow
Fyfield Down Valley of Stones
Piggledene
Lockeridge Dene
Alton Yew & Springs
Swallowhead Springs
and more...
Avebury in Wiltshire is best known as the world's largest stone circle, but surrounding it is a wealth of ancient monuments. Captivated by its unique atmosphere, many visitors form a personal, often spiritual, connection to Avebury and its 'sacred landscape'. What was it that first attracted people to the Avebury area more than five thousand years ago?
Beautifully illustrated with over 400 photographs, maps and diagrams, Exploring Avebury invites us on a journey of discovery. For the first time the importance of water, light and sound is revealed, and we begin to see Avebury through the eyes of those who built it.
"Exploring Avebury is really excellent, being quite clearly the best current introduction and guide to the whole monumental complex: up to date, consistently fair-minded, and superbly illustrated."          Prof. Ronald Hutton, historian
Why was Avebury built where it is? Where did the sarsen stones come from? How does Silbury's ditch fill with water each winter? What was the Avebury landscape like in prehistory? Exploring Avebury: The Essential Guide contains a wealth of new information and examines some of Avebury's greatest mysteries afresh.
"Not only is this the most beautiful book to be published on the Avebury landscape, but it offers the reader one of the finest introductions to a region remarkable for its stunning prehistoric heritage and understated natural beauty. Steve Marshall has followed in the footsteps of an earlier generation of great Avebury observers and writers such as William Stukeley and A.C. Smith, to produce an account rich in stunning imagery, detailed personal observation and insightful interpretation. This is the essential guide!"         
Dr Joshua Pollard, archaeologist and author
Whether you are new to Avebury or are a seasoned visitor, this book really is essential. For first-time visitors it is an ideal guide for navigating the Avebury landscape and its monuments; for those who think they already know Avebury, there are surprises in store.  Packed with hundreds of gorgeous photographs, the book shows Avebury not just in the summer, but throughout the seasons. Although Avebury sees few visitors in the winter, it is then that its springs and rivers begin to flow and the place comes truly alive.
"Marshall's study of what he calls 'Avebury's Waterscape' evinces a breathtaking knowledge of the ancient streams and springs of the Avebury landscape. And his knowledge of the sarsen stones forming the megalithic monuments is equally impressive. He explains how sarsens were formed, discusses (and illustrates) polissoirs – stones with smooth hollows caused by the polishing of prehistoric stone axes – and explains other curious markings on the stones. Marshall also provides annotated viewscapes from key points. Best of all if his treatment of the crop marks that are all that remain of what had been huge and mysterious timber structures now known as the West Kennet Palisades south of the henge: he helpfully superimposes the crop marks onto oblique photographs of the fields involved.
Marshall touches on many other aspects, such as possible astronomical effects and, especially, his own acoustics work at WKLB and his involvement in acoustics experiments at Longstones Cove. The book is an unmatched guide to Avebury and much more than the superficiality that the term 'guide' implies. Highly recommended. "          Paul Devereux, Fortean Times
Author Steve Marshall lived close to Avebury for many years whilst researching and taking the photographs for this book. His acclaimed study of Avebury's springs and rivers resulted from many months of dedicated fieldwork, largely conducted in freezing weather.
"This is a fabulous new book from Steve Marshall, beautifully organized, filled with stunning images and with enough hard information to keep everybody happy.  Steve's cool and laid-back approach comes through in the text, which is clear and concise -- thankfully there is an emphasis on what we know rather than on what we would like to know.  So fantasy is kept at bay, and what we have in its place is a highly informative portrait of a fascinating place which almost everybody seems to prefer to Stonehenge.
Silbury Hill and lots of other features in the Avebury landscape are also dealt with in detail -- there is far too much to cover in a short review.  But buy the book!  It's very informative, and Steve deserves our congratulations.  And even if you are not into detailed archaeology, buy it as an essential piece of archaeo photographic porn to share with your dinner guests!"
Brian John, geomorphologist & blogger
 
AMAZON CUSTOMER REVIEWS
"Fantastic book and website on Avebury and the surrounding area. Well produced, comprehensive and gorgeous photographs. Without doubt the best book on Avebury out there and is simply essential for anyone who visits or wants to learn more. The associated website has such a wealth of extra information it is also a must."

"Wow! What a beautiful and fascinating book."

"A book that really delivers what is says in the title. It is THE guide to have to start exploring this wonderful Wiltshire village. It is packed with hundreds of excellent photos, diagrams and maps. The book is suitable for those who have an interest in Avebury and those who have a deeper interest in archaeology. No outlandish theories are presented, just an excellent narrative of what is there and some links to landscape features. It would be a useful guide to take to the village and to use as an onsite guide to navigate around. The section on the relationship of henges to water feature is fascinating. The book deserves to be nominated for an archaeological award."
"Best book on Avebury I've read. Excellent pictures and a must for lovers of the Avebury landscape."

"I can only echo the views already expressed here: this is simply the best book on Avebury and its monuments to be found. It is a clearly and concisely expressed guide, beautifully laid out and with a wealth of excellent photographs and diagrams. I have looked into it almost daily since our return home and still find things in it to ponder over. No visitor to Avebury should be without it."

"Beautifully photographed and so comprehensive that by the end it provides an important way-in to understanding this ancient landscape and its great mysteries. In this case the title, "Essential Guide" is justified. A considerable achievement. Steve Marshall underpins an accessible and enjoyable read with solid academic research. The enthusiasm and knowledge of the author shine through. This is set to become the standard text for those visiting Avebury. Highly recommended." 

"Brilliant. Brilliant. Brilliant. All that needs to be said ;-)"